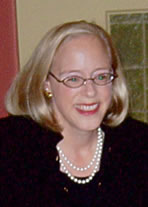 Anne Murphy Kelley
Anne Murphy Kelley of Pacific Grove, CA is a cradle Catholic and relatively short-time yoga practitioner. Born in Los Angeles, California and raised in Pasadena, she first experienced—and learned to love—the Stations of the Cross at St. Philip the Apostle Church, her grammar school parish. After attending the University of California at Berkeley, where she majored in English Literature (but got a D+ in Bible as Literature), and Hastings College of the Law, where she obtained her J.D., Kelley resettled in Los Angeles to practice law. Early in her professional career she was invited to join the Holy Family 9:30 Mass Choir in South Pasadena, California, where she developed a great love for liturgical music and choral singing—and composed several psalm responses. That passion followed her to Seattle, Washington, where she moved to work for Microsoft Corporation as a corporate attorney in 1994. She joined the St Therese Spirit Choir in 1995 and sang with them until winter of 2015. 
A life speed bump and a creative personal trainer caused Kelley to try yoga in 2008. The inspiration for BodyinPrayer came out of a May 2009 conversation with a fellow choir member and St. Therese' then-lack of Stations of the Cross in the church. (Now Eric Armusik's Stations are installed at St. Therese).  Kelley looked for help when creating the meditation from a number of talented sources, including Eric Armusik for the paintings, Cynthia Simon for yoga, Joseph Rojo for music, and her uncle Fr. Lawrence B. Murphy, a Jesuit priest, for critique of the spoken meditations. A wide and wonderful network of friends played key parts in developing the meditation and bringing it to life in 6 different parishes to date.
Kelley recently retired after 20 years with the Microsoft Corporation where she served as Associate General Counsel and worked in the areas of intellectual property, supply chain and anti-corruption, with an international focus.  Some of her publications include "Practicing Effectively in the Patent Marketplace" in the Winter 2011 edition of the University of Chicago Law Review and a chapter entitled "Microsoft's Immigrant and Refugee Rights Programs" in Practising Law Institute's Pro Bono Service by In-House Counsel. Recent activities include her service on the board of the  Washington Policy Center and the Board of Governors of University of California Hastings College of the Law. Married and widowed in 2000, Kelley is fortunate to have a big Irish Catholic family on both her own and her husband's sides who enrich her life enormously. In addition to loving art and choral music of all kinds, she is currently enamored with ancient history and learning to cook Indian food. She is completely enamored with travel and nearly always attached to a book.